Retailing in India: RISE AND SHINE THROUGH
The Indian gem and jewelry sector has endeavored to use trust and service to shine through the challenging times in social and business conditions.
– by Surender Gnanaolivu
Jewelry hasn't only been a significant adornment for special occasions for Indians, it's also an asset of social prestige and financial security for periods of uncertainties. According to India Brand Equity Foundation (IBEF), India's gems and jewelry sector is one of the largest in the world, contributing to 29 percent of global jewelry consumption. Its market size, $75 billion USD as of 2017, was expected to reach $100 billion USD by 2025, growing with a compounded annual growth rate of 5.6 percent. The sector has more than 300,000 players employing over 4.64 million employees expected to increase to 8.23 million by 2022.
The pandemic has seriously threatened this upward trend with recent lockdowns in India, operational challenges and falling consumers sentiments. Statista Statistics, a Germany-based market data firm, reports a slide of 35 percent in gold demand to 446.4 metric tons in 2020 from 690.4 metric tons in 2019. However, positivity came in the form of a recovery trend in demand from the last quarter of 2020, probably because the security that gold provides as a safe-haven metal countered the negativity.
The big fat India wedding industry validated this in a noticeable trend where savings made in overall wedding expenses, owning to guest restrictions, were being spent on jewelry. Retailers who earned the trust of these customers, by offering the right range, quality and relevant service, benefited by being preferred over others. Omnichannel access, safe touchpoints and choice of service in store, online or at home, have been fruitful initiatives that have helped them survive the slump. Here are shining Indian examples.
Zealously Zoya
Titan Company's jewelry division has reported that, despite having seen 70 percent loss in the first quarter of financial year 2020-21, it had exceeded the total previous year's revenues. The increase in the share of wedding jewels and number of buyers contributed to this growth. The company added more than 50 new stores in the year 2020 across all its jewelry businesses.
Zoya, its luxury diamond boutique chain, has carved a niche for itself in the world of haute jewelry for the discerning woman with its unique design inspirations from iconic destinations, history, culture, art and legends. The design curations are made to celebrate the expression of reconnecting with their deep feminine spirit by breaking free from patriarchal and societal expectations.
Being a high involvement purchase, a phygital strategy comprising appointment-based selling, home visits, video and WhatsApp consultations by jewelry advisors, is helping serve customers across cites where the retailer has a physical presence and even in some where they're not. A #SafetyinEighty steps protocol and specialized jewelry sanitization process ensures safe and comfortable in-store shopping. Digital advisors address online and social media queries armed with predictive insights to deliver personalized service. After opening three boutiques in Mumbai and Delhi, Zoya opened a 3300-square-foot boutique in Bangalore last year during the pandemic. The environment was designed to present a global chic, luxurious setting for highly curated product storytelling and service.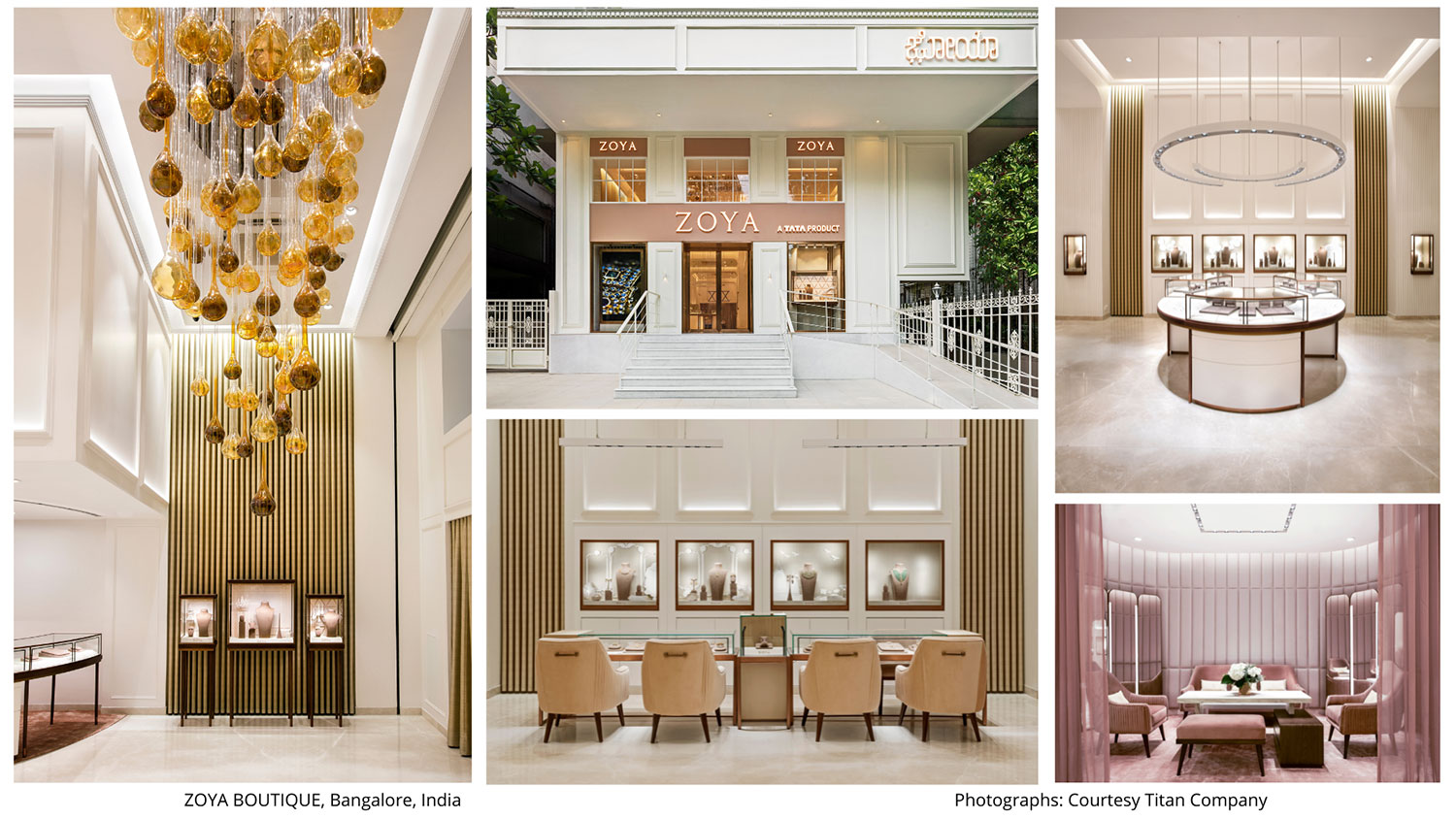 Master from Malabar
Established in 1993 by M. P. Ahammed in the Indian state of Kerala, Malabar Gold & Diamonds currently has a strong retail network of 250 outlets in 10 countries, and 14 wholesale units in addition to offices, design centers and factories spread across India, the Middle East, Eastern Asia and the United States. With an annual revenue of $4.51 billion USD, they currently rank among the largest jewelry retailers globally.
After opening 16 stores in 2020, the brand recently announced a $405 million USD investment plan to open 90 new stores across India and in 16 international markets this year, demonstrating optimism in its business from key retail markets. Undeterred by lockdowns, new stores were launched virtually by the chairman, and celebrity chief guests across India, in compliance with strict safety protocols.
Being a vertically integrated company with a bullion desk, design centers, manufacturing, distribution, retail and after-sale services, enables the retailer to offer customers competitive value in traditional and contemporary collections in 18-karat and 22-karat jewelry with diamonds and precious gems. Beyond its own website, it has an exclusive page on Amazon India.
The brand's big-hearted policies have helped the needy during the pandemic with monetary contributions and assistance. In June 2020, the retailer chartered a flight to carry 171 team members and their families, including 25 children, from Sharjah to Kerala in India to be reunited during the pandemic.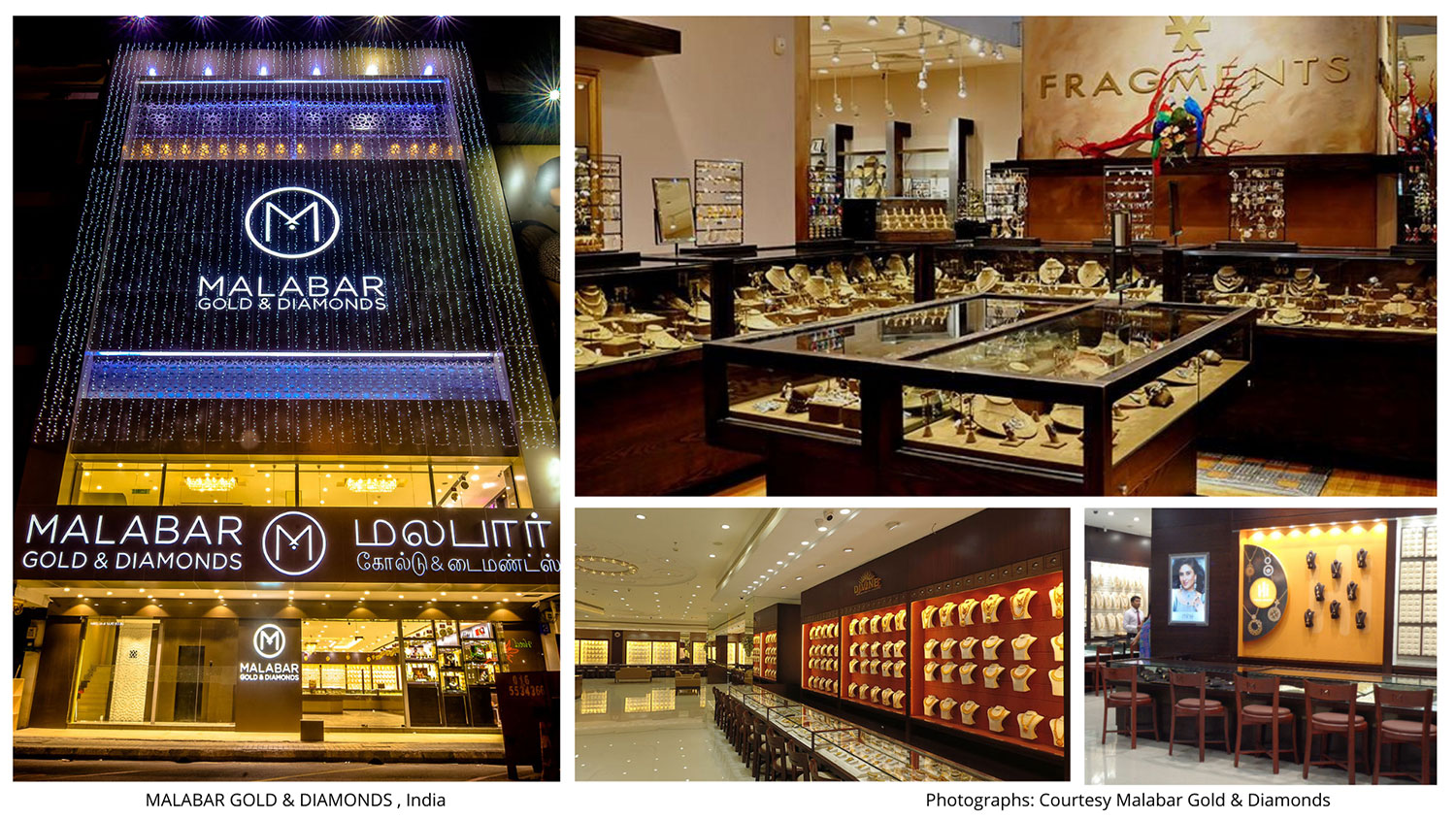 Belief In BlueStone
Founded in 2011 by Gaurav Singh Kushwaha, BlueStone started as an online portal and eventually transformed into one of India's leading omnichannel jewelry retailers operating 36 stores in 12 major cities. The brand offers at least 8000 unique designs with the flexibility to customize the product's gold purity and color or diamond clarity with the choice of "try at home" services in 16 cites.
In the past year, the brand had more than 2 million unique monthly visitors to its website, clocking a monthly sale of over $6.1 million USD. This increased uptick justified an investment in the launch of 10 additional stores since the reopening of the economy mid-last year with the plan to open five more in 2021.
Unlike typical jewelry stores where service is conducted across a counter, BlueStone stores present a self-browsing and self-service format supported with specialized jewelry advisors. The store layout allows customers to browse collections presented in "mood windows" and museum-like counters augmented with digital screens.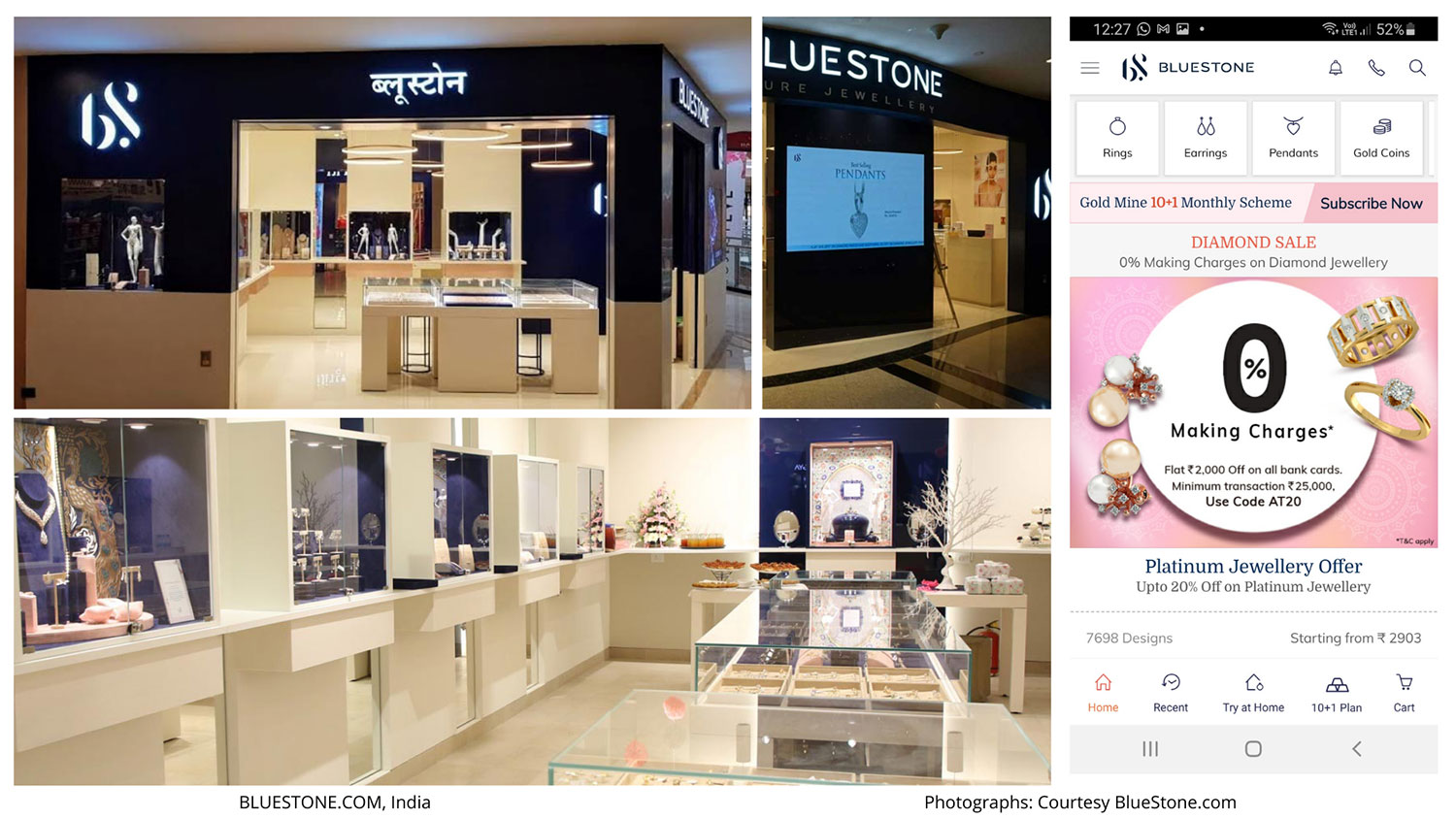 Hope of Shining Through
Amidst the waves of pandemic uncertainty, jewelry businesses and their customers' shopping habits have shown some positive reasons for optimism in the future. Experts predict demand to be positive in India owing to the "safe haven" value of jewelry. Added to this is the fact that the pandemic has brought about a paradigm shift in the use of digital touchpoints to access and engage with this typically highly tactile service. The success stories illustrate an evangelical testimony for Indian retailers to follow to serve the Indian consumer, even beyond jewelry retail – deliver personalized service in a seamless blend of tactile and virtual channels in store, online and at home. Hopefully, jewelry will contribute to adding much-needed emotional security, peace and cheer, and enable India to shine through these challenging times.
Exclusively written for and edited by vmsd.com