SPEED, THE NEW NEED
Given the high need for safety today, efficiency in terms of time and effort involved is the top priority in shopping, transforming in-store shopping missions from 'leisure browsing' to 'purposeful searching'. This in turn is redefining visual merchandising and store planning practices.
– by Surender Gnanaolivu
The lockdown has significantly changed the way people think, prioritize and act in their daily lives in the new normal. The hierarchy of needs, defined by Maslow, has been turned on its head now led by the humble physiological needs of essentials. Though essentials are topping shopping lists in all homes, the onset of lockdown 4.0 has brought non-essential retail, both offline and online, into consideration once again. Reopened stores are giving retailers a firsthand sense of the behavior of the unlocked customers venturing out to shop for non- essentials. A common observation is the change in their shopping missions from 'leisure browsing' to 'purposeful searching' in shopping journeys that are now less frequent, with higher conversions, fulfilled with larger baskets and purchased in lower dwell time inside the store.  This clearly reveal that the key engine powering customer fulfilment is efficiency in the use of time and effort in quickly finding, evaluating, and making an informed decision influencing purchase.
A collaboration of store planning, visual merchandising, technology, and data science can play the role of the enabler in delivering this expectation of a quicker shopping journey. Insights from data, such as traffic analytics, sales mix, basket analysis and channel revenue share, help predict customer expectations and curate efficient and predictive shopping journeys that optimize consumers' time and effort instore.
Here are a few successful store planning and visual merchandising strategies that can be interpreted in relevance to today's need for speed in store environments.
Set the stage for speed
Consumer behavior has clearly indicated the preference for stores, both offline and online, where they can quickly locate what they are looking for and buy without having to venture deep into the store. This can be achieved by tweaking store layout in terms of category and service point adjacencies and circulation. Sale and channel share data can help identify and place trending or most frequently bought products and categories closer to the store entrance and power aisles. Simple rearrangement of floor fixtures to enable straight line travel or one-way circulation to enable physical distancing will help set the stage for speed and safety for grab-and-go shopping.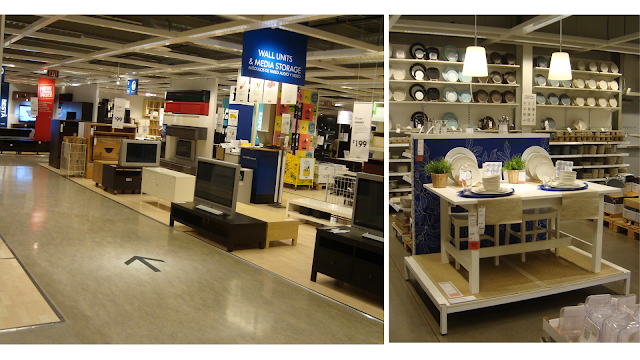 IKEA presents a 'forced' one-way circulation in its Showroom area, that informs and advices shoppers to browse and select what to buy, leading to the Marketplace which enables quick 'grab-and-go' shopping
Pic: Surender Gnanaolivu
Tell short stories
Today, lifestyle categories like fashion, home improvement, beauty, and wellness too are largely dependent on essentials to drive sales. Story telling has been a great visual merchandising tool to attract, inspire and engage consumers and deliver memorable messages at an emotional level. However, in today's contexts of rational shopping, visual merchandising objectives need to focus on supporting product sales with short stories that deliver precise information that assists in making quick buying decisions. Displays with elaborate propping and configurations are making way for crisp no-fuss visual schemes that present SKUs, selected using analytics, in window displays and focal points to enable speedy gratification.
Amazon Go offers a crisp summary of stories of how wines can be paired with food enabling shoppers to make quick informed decision on the most suitable wine to buy.
Pic: Surender Gnanaolivu
Bundle up solutions
The lockdown has given many consumers spare time to engage in enjoyable activities like cooking, art, and academia creating demand for specific sets of products required as a solution for each. Relevant information from the category manager and data analytics (category sales and basket analysis) can help store planning and visual merchandising to present meaningfully coordinated bundles of related products to predict and promote each of these solutions. 'Ensemble setups' of fashion and 'Check-list display' of solutions fulfilled with full assortment availability of each featured SKU can influence collective decision making, maximize basket-size, and optimize conversions.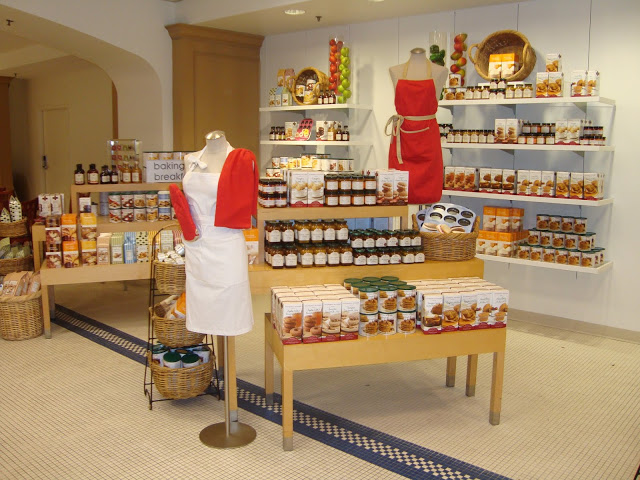 Macy's features a solution selling display of Baking Essentials that are most often bought together enabling shoppers in saving time in searching and putting together  all the products required for this activity in one go.
Pic: Surender Gnanaolivu
Testify for trust
Today's savvy shoppers almost never decide on a product without knowing how it is worked for those who have already made the decision to buy it. Good reviews, consolidated across online and offline platforms, influence confidence and conviction in future customers towards a brand and its products. With trust having become the top factor for customers in the pandemic era, testimonials play a crucial role in dumbing hesitations and quickening decisions to enter and purchase in a store. Integrating consumers' emotional and rational endorsements of product features, quality and safety can ensure building trust and confidence instore. Static and dynamic content can support displays to achieve this critical ingredient of decision making.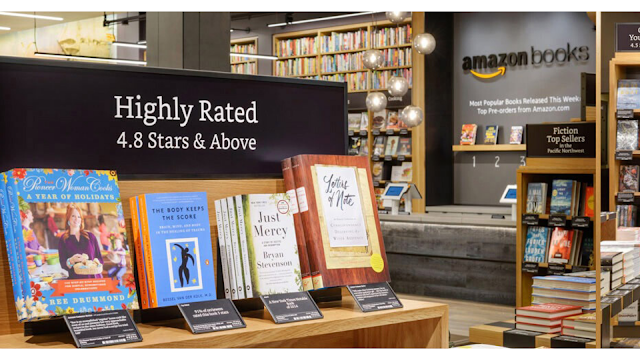 Amazon Books features a focal point that endorses its bestselling books based on ratings from readers who own then and quickly influencing browsers to seriously consider buying them instore.
Pic: Courtesy Dorrance Publishing Company
Ultimate speed test
The well informed and connected consumers of today will test brands on their understanding of their emotional and rational motivations by making quick intuitive choices to enter and shop in a store based purely on the time and effort needed for it. In response, store planners and visual merchandisers will need to infuse design with data and technology to build high levels of efficiency and speed in the instore experience. The ultimate test will be in the implementation of these understandings in the store layout and display and enable quicker conversions and higher bill values in a scenario of low footfalls and dwell time.

Written exclusively for VM&RD and published in retail4growth.com, June 2020
http://www.retail4growth.com/viewpoints/speed-the-new-need-783